Hi everyone,
A new miniZ version v2.0c3 is out with a fix for invalid shares issue on v2.0c2!
Please find miniZ version v2.0c3 @ Download page.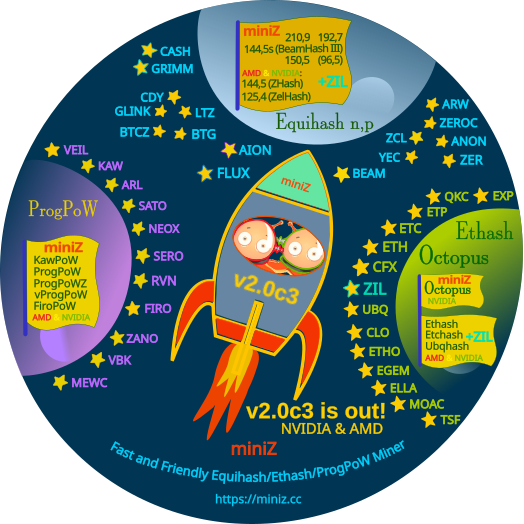 Changelog:
Fixed issue with invalid shares with v2.0c2.

Added support for Zilliqa (ZIL)+ all miniZ algos mining.
(See FAQ How to mine Zilliqa (Zil)? for usage examples.)
Fixed progpow issues with Polaris GPUs.
Added support for RX 6500 XT (Navi 24 GPU). It should work with other Navi 24 GPUs.
 * * * Check if the option --autoclocks works for you, it can be very useful for changing OC settings during dual mining. * * *
For dual mining Equihash+ ZIL:
* * * We're trying to make this as compatible as possible with pools.
Pools may also need to make adjustments to accommodate this feature.
* * * CrazyPool seems to work well, follow the examples below.
With ShardPool, it seems that sometimes the workers take some time to appear on pool side. We'll be checking this.
* * *  With Nicehash  you need to add zil://
--url=zil://Your_ZIL_Wallet.Worker_Name@daggerhashimoto.auto.nicehash.com:9200
General example is usually of the form:
miniZ.exe --url=Your_Equihash_Wallet.Worker_Name@equihash_server_name:port
--url=Your_ZIL_Wallet.Worker_Name@ZIL_server_name:port
*** Thank you all for the feedback! ***
Remember to try --oc1/--oc2/--ocX options for optimum performance. (NVIDIA only)
For additional information check our Usage or FAQ pages.
*** Download miniZ latest version here. ***
Engage, feedback and support
Because your feedback is very important, miniZ kindly encourages you to use the comment box below for general questions and feedback.
Certainly we will strive to help you with any doubt and provide a solution to any problem you may encounter. In case you need to reach us, please check the Support page.
Follow us
We wish you a fast and friendly mining experience!