Hi everyone,
A new miniZ version v2.2c is out with support for EthashB3 and EvrProgPoW algorithms to mine Rethereum and Evrmore, respectively.
Please find miniZ version v2.2c @ Download page.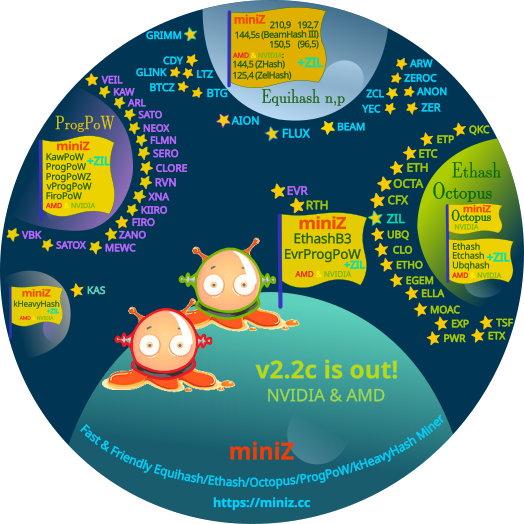 Changelog:
Added support for EthashB3 algorithm (Rethereum, RTH). Fee: 1%.
Added support for EvrProgPoW algorithm (Evrmore, EVR). Fee: 1%.
Removed DAG generation when mining ProgPow/Ethash fee, for most cases.
Fixed issue when mining ProgPow/KawPoW that caused miner error.
Fixed Zil issues when mining with Nicehash.
Small improvements for RTX40XX GPUs for 125,4 (FLUX) and 144,5 (BTG, BTCZ,…).
*** Thank you all for the feedback! ***
Remember to try --oc1/--oc2/--ocX options for optimum performance. (NVIDIA only)
For additional information check our Usage or FAQ pages.
*** Download miniZ latest version here. ***
Engage, feedback and support
Because your feedback is very important, miniZ kindly encourages you to use the comment box below for general questions and feedback.
Certainly we will strive to help you with any doubt and provide a solution to any problem you may encounter. In case you need to reach us, please check the Support page.
Follow us
We wish you a fast and friendly mining experience!